In August, we teamed up with The Quarry Senior Living to run an essay contest in The COlumbian. We are happy to announce the winner is Ruth Wirt Green! See her humorous and thoughtful submission below! 

PANDEMIC PAUSE
by Ruth Wirt Green

The postcard announcing our 60th high school class reunion set off a flurry of plans in preparation for the gala event. Past reunion prequel would have included losing 20 lbs., selecting the right length hair extensions, and applying eyelashes that look like window shades. Now, in the age of pandemic and the dwindling functions of my 78-year-old body, my preplanning has been altered a bit. I spent the morning on the internet searching for the perfect pair of orthotic shoes, an extra set of batteries (no, not for Mr. Buzzy!) for my hearing aids, and a face mask that coordinates with my outfit. After all that, I hope I don't forget to show up to the reunion.

This new lifestyle has many advantages. Since the old and vulnerable have been deemed an endangered species, special privileges apply. You can be first through the doors of the grocery store, though this requires you to get there at 5:30AM and stand (usually in the rain) in a line six feet away from the other "vulnerable", with a mask wrapped tightly around your nose and mouth. This is a cleverly concealed marketing ploy. Once inside, your glasses fog and you believe you have found the deal of a lifetime at the meat counter. My husband came home last week with a carefully wrapped 5 lb. prime rib. Beaming with pride over the bargain he had unearthed, he exclaimed, "Look honey, I got this for $6.95!" I could not believe my eyes – nor could I believe his, as it turns out. A quick look at the label revealed it was actually $6.95 PER LB. and the total price was going to require a bank loan.

Still, the mask itself has untold advantages. You can mingle in public without makeup and, depending on the shape and size of the mask, cover your wrinkles and any unsightly blemishes you may wish to keep secret. You can even decorate your mask to make a social or political statement if you are so inclined.

The pandemic has also greatly altered my exercise routine. Instead of an early morning trip to the gym for a potentially lethal hour of Zumba, choreographed to raucous, mind-blowing music (thank goodness I forgot my hearing aids), I've settled for quiet, soothing moments, stretching with Jane Fonda. Remembering back to the early 1970's, my exercise routine was a bit different. I would slide into a skimpy, form-fitting Lycra leotard, pull matching leg warmers over my thin, tan legs, and hold the Asana (aka Downward Dog) for ten minutes, while Jane's lilting voice encouraged me to hold firm as she slowly counted the moments until release and relief. Now I waddle out to the family room in black drawstring sweat pants and a red T-shirt stating, "I never liked flies until I opened one". This shirt was my fashion statement when I ran the Portland Marathon. It did not disqualify me from the race, so I figure Jane won't mind either.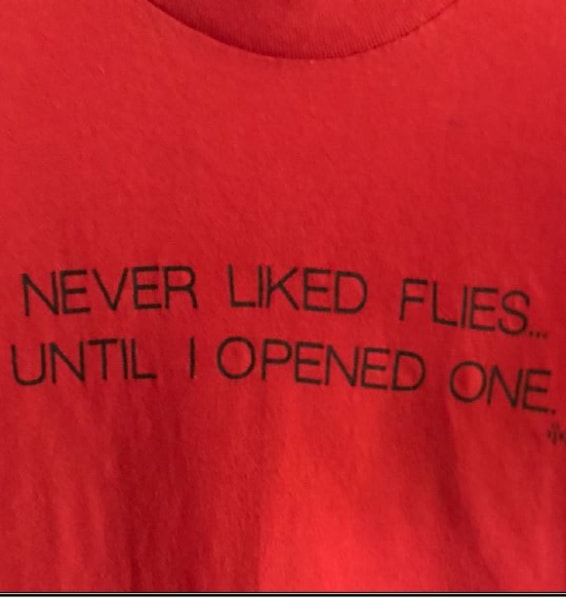 Once my purple yoga mat is placed properly on the floor, I tee up Jane on the big screen. Downward Dog has given way to the Child's Pose. Of course, my all-time favorite is Savasana (aka the Corpse Pose). That's where you lie on your back and stare at the cobwebs on the ceiling, which have formed after you last dusted in 1999. As you lie there in sweet repose, it's easier to ignore Jane's cheery instructions and mark Yoga off your "to do" list for the day.

The social distancing required during this pandemic has brought out the best in our neighborhood. Most Friday mornings, I host coffee and conversation in our driveway. At first it was standing in the street, now we carefully place camp chairs six feet apart. It's BYOC (bring your own coffee - Bailey's Irish Cream optional). Occasionally, a chocolate muffin or other home-baked goods will show up … that is, if you can find flour.

My friend Patty is the unofficial Ambassador of Airport Green. She logs 10,000 steps a day while getting to know everyone in the neighborhood. By the way, Patty and I discovered that her cousin Wayne Hansen was a classmate of ours. As we sit basking in the rain, Dick and his dog Toby wander by and he shares a picture of his last night's dinner (his dinner, not the dog's – though they do look similar). Children in strollers and dogs on leashes parade by while we exchange recipes and discuss the latest book we've read. Later, you may find one of the titles in your mailbox.

Those of us who are into gardening exchange vegetable starts and gently critique each other's pruning skills and landscape design. Patty's husband Jack is the most popular fellow in the neighborhood. Guess that makes them Mr. and Mrs. Ambassador. Jack is worthy of the title as well because he owns a big, yellow osculating cement scrubber that you attach to your pressure washer. Early in the spring, you can often hear the hum and occasional sputtering oops-out-of-gas sounds as the scrubber is loaned to multiple neighbors. I'm particularly lucky when it's my turn to use the scrubber and the pressure washer sputters to a halt. My husband appears in his t-shirt that boldly states, "I've Got Gas" and quickly refuels the tank so I can finish the grueling project before the daylight fades.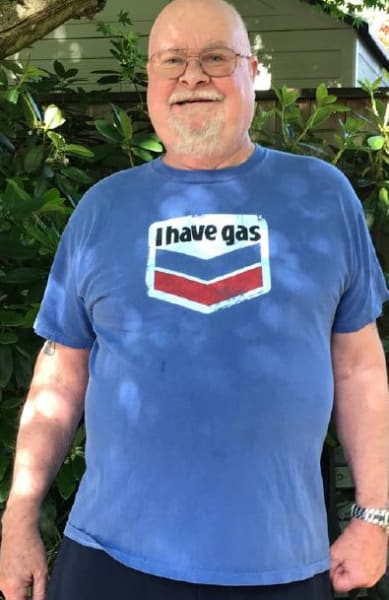 For me, shelter in place translates to stay in your Green Goddess Garden. Climate change has altered the seasonal timeline of my garden and increased the hours I spend on my ergonomic garden kneeler/seat. During a particularly dry season, sometimes I wet my plants. Whether it's the shimmering violet leaves of a Persian Shield or sharing space with a Goldfinch sipping libation from the pond, this pandemic pause has brought joy to my inner landscape, and peace and harmony to my soul.