Dining
At Bridgeport Place, your mom can enjoy meals and snacks throughout the day. Our community chef dishes up three delicious meals, made from scratch each day in our community dining room.  And, if she can't make it to the dining room right at the start of meal time, no worries. Each meal service lasts an hour and a half!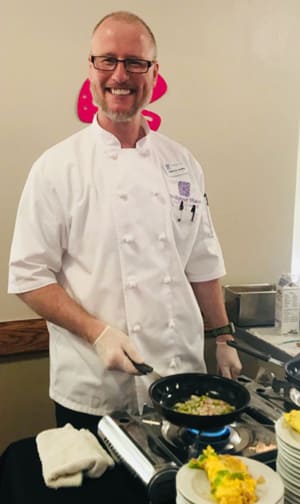 Meet the Chef! 
Chef Patrick was born in Kaiserslautern, Germany. His mother married into the military and made many trips to the United States. His family eventually settled in Tacoma, Washington in 1977.
After graduating from Lincoln High School in 1987, Patrick enrolled in culinary school. His first cooking job was at a Bavarian restaurant. He worked in many other restaurants until he found his passion for senior living in 1992.
Patrick has been married for 17 years and has one daughter and two grandchildren. When not at work, he enjoys doing fun runs with his wife, hiking around Mt. Rainier, camping, trying new restaurants, and spoiling his grandkids.
Take a peek at some of the food coming out of Bridgeport's kitchen!