We believe in supporting those who dedicate their lives to taking care of seniors. As senior living professionals, we're united with other caregivers across the country in our mission to take care of the aging population, and, in turn, to take care of each other.
The recent wildfires that ravaged Northern California left many people without homes, including employees from our sister communities. We've donated generously to this cause because it's important to us, and we hope it's important to you too. Please, consider donating to help them rebuild their lives.
Welcome to Cap Sante Court Retirement Community
People love calling Cap Sante Court their home! Welcoming living spaces, fresh, home-cooked meals, delightful courtyard and a community of diverse, caring people make living at Cap Sante Court so much better than living at home alone! 
Come in today and see how you can love living here too! 
Read reviews for Cap Sante Court on FamilyAssets.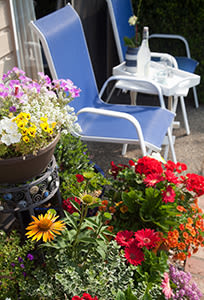 I live at Cap Sante Court and I love that the staff is so friendly, loving and accommodating to me and my fellow residents. The feeling of security, even in the middle of the night, knowing that someone is there in case something occurs. I also love the location. This is the most beautiful community, I have met and know more people here in Anacortes and at Cap Sante Court in the 4 years I have been here, then I did the 40 years of living in Eugene Oregon!  - Hayden H., Resident
Making the decision to move to senior living, and finding the right community for you can be a very intimidating process. Don't worry, we're here to help! Browse through our library of eBooks and infographics, all related to different stages of the senior living search.