Call to schedule your safe socially distanced or virtual tour today
Welcome to Cap Sante Court Retirement Community
People love calling Cap Sante Court their home! Welcoming living spaces, freshly home-cooked meals, a delightful courtyard, and a community of diverse and caring people make living at Cap Sante Court so much better than living at home alone! 
Come in today and see how you will love living here too! 
Read reviews for Cap Sante Court on FamilyAssets.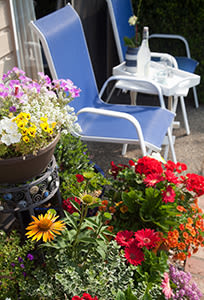 Last week was a busy week! My father, George took a fall and broke two ribs, ended up going into the ER then spending the night in the hospital. As you know George is a resident at Cap Sante Court, Teresa and her staff moved a mountain in a very short time to make sure George was safe and comfortable upon returning to Cap Sante Court.
Teresa and her team went above and beyond normal duties in preparing George's studio apartment. We agreed to remove the large recliner as it was to large and hard for George to push back to the comfortable recline position and I was trying to figure out what I could replace it with when Teresa told me she had a assisted lift with heater that was available! The old chair came out and the assisted left brought in! The staff also cleaned George's apartment as I could not do this.
Upon returning to Cap Sante Court George is in quarantine but comfortable in the new chair that is helping his ribs heal with the heat.
Words really don't describe my gratitude to Cap Sante court for all their sincere love and care for my father.
I wish I knew all of the staff names* besides Teresa ! They are one fine team and you all need to know how hard they are working in this very unusual time of our lives.
Sincerely, Cathy T.
*CSC Staff: Teresa R., Jennifer B., John B., Michele B., Amber C., Rhonda E., Shaughnessy S., Colleen R., Kerry H., Brett M., and Ed R.
Making the decision to move to senior living, and finding the right community for you can be a very intimidating process. Don't worry, we're here to help! Browse through our library of eBooks and infographics, all related to different stages of the senior living search.