Events
You'll love all the extra touches!
Our full-time Activities Director ensures plenty of liveliness, activity, & fun with regular outings, parties, shopping, exercise classes, and all kinds of social events you're sure to enjoy!
Continue your current interests and hobbies and even develop new ones. Whatever your interests may be, you'll find there's much to do and enjoy!
Highlights of upcoming 2015 Activities:
Enjoy our worship services every other Sunday with Reverend Craig Lantz, and an evening church service with Pastor Otto.
We have musical performances scheduled every Wednesday and Saturday, with performers including: Steve Kucenski, Rhonda Lee, Tom Shultz, Sweet Life, Jay Smarr, Silvertones, JCM Band, and many more!
Join our trips every Monday and Friday, including factory tours, shopping stores, country rides, Hollywood Casino, picnics in the park, and special community events.
We also offer a variety of activities in our Activity Room. Devotions are held every morning, I Spelled IT, Bingo, Cook's Corner, Socials, Holiday Parties, Craft Hour, Jingo, Gardening, Trivia Games, and Exercise Programs.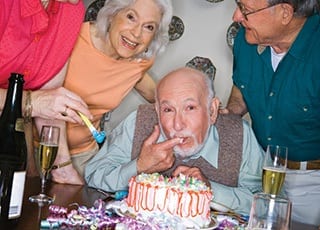 "We have special holiday programs: Valentines, Birthdays, Easter, Halloween, and Christmas. And special programs they surprise us with."
- Maggie