Independent Living
A lot of people shy away from independent living because they don't understand what it is. They think they'll be living in a "facility" instead of somewhere that feels like home. They assume that they won't have the same amount of privacy, they'll be forced into a lot of activities, or they'll be paying for care services that they really don't need. However, the best thing about independent living at Flagstone is that it's flexible. You can choose your apartment floor plan, whether or not you'd like to take advantage of the meal plan, or if you'd like weekly housekeeping.
Flagstone offers two distinct independent living options: The Terrace and The Cottages.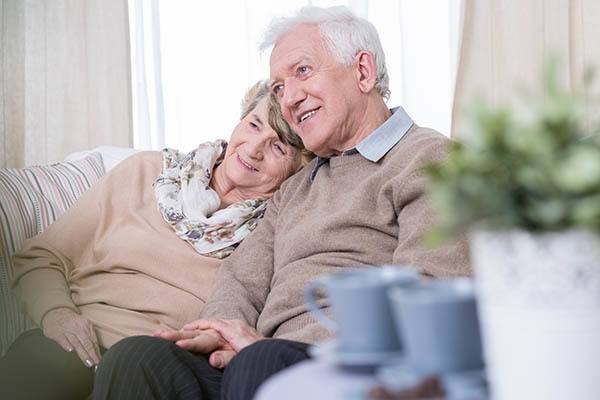 The Terrace
The Terrace is Flagstone's own independent living apartment building. There are several one-bedroom and two-bedroom floor plan options, and all of them have at least one walk-in closet, full kitchen, washer, dryer, and fireplace, regardless of their size.
The Terrace offers a sense of community and neighborhood comradery, but you will still have your own private apartment, just as if you were to live in an apartment building that wasn't designated for age 55+.
The Terrace is a great option for singles or couples who want enough space to have their own furniture, a laundry room, and a full kitchen, but don't need extra bedrooms or outdoor storage space like a garage or shed.
The Cottages
The Cottages are separate from The Terrace apartments and are free-standing units, like small houses, making them the perfect example of living at home without the maintenance. Each of them have an open concept kitchen and living area, master bedroom and bath, guest bedroom, full kitchen, a washer and dryer, open concept living and dining area, covered patio, and one car garage. Is a dog a part of your family? Great! Each cottage also has a yard. Some even have views of the Columbia River!
The Cottages are surrounded by a residential area and, just like The Terrace, The Cottages have the option to opt into meal plans and housekeeping, along with all the benefits of maintenance-free living.
The Cottages are a great option for couples who need more space, have a pet that needs a yard, or prefer to park in a garage instead of a lot.
Click on the images below to learn more about dining, enrichment, and floor plan options at Flagstone.