Assisted Living
Close personal attention is the hallmark of St. Augustine Plantation. We started with a simple vision: Create a caring environment that improves the quality of life for seniors and their families. Today St. Augustine Plantation is one of the most experienced and innovative providers of senior care in the Tallahassee area.
A helping hand may be all you need to maintain your independence. Whether it's companion service, personal care, or nursing services, our goal is to provide support that encourages an active and healthy lifestyle.
Companion Services
Stimulate mental awareness
Light housekeeping and laundry
Escort to medical appointments
Maintain calendar and scheduling
Aid with reading
Organize mail and compose letters
Prepare and mail bills
Aid with home organization
Clean closets
Care for pets and house plants
Personal Care Services
Bathing
Dressing
Grooming
Monitor diet and eating
Ambulation/Mobility
Incontinence
Cognitive impairment
Licensed Nursing Services
Catheter care
Drawing/Transport of lab specimens
Tube feeding
View examples of our floor plans: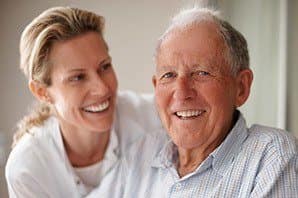 "The type of trusting and hands-on care that he receives is unlike anywhere else."
- Resident