Careers at Milestone Retirement
What's your story?
At Milestone, we are all connected by our stories... how we change the lives of our residents, and each other, every single day. Our collection of stories speak to the heart of what we all do for our residents and families.
By connecting, appreciating, and recognizing each other, we have cultivated a culture of caring that fosters positivity, empowerment, and growth.
Click the video to watch and listen to the stories of a handful of people that make a difference.
Talent. Heart. Compassion...
Are you ready to create more stories?
Scroll below to search for a new opportunity to make a difference.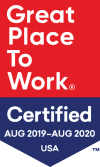 Our Culture of Caring goes beyond our residents.
Take a look below at just some of the reasons to work at Milestone.